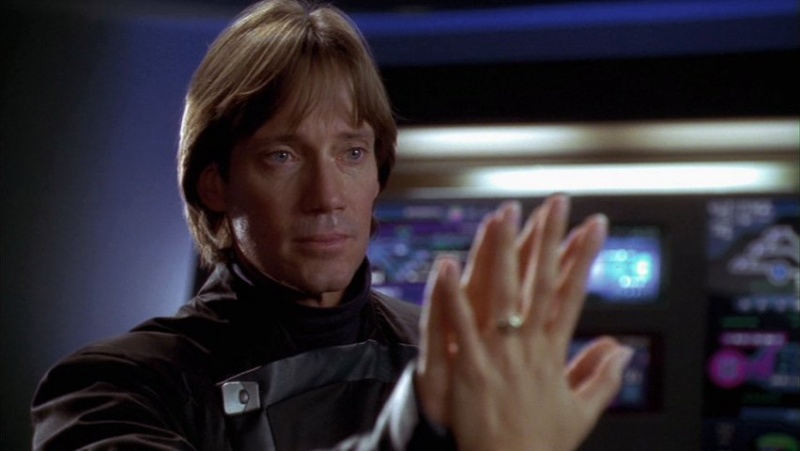 SINOPSE EM PORTUGUES:
https://kevinsorbo.forumeiros.com/tv-series-andromeda-f3/a-saga-i-08-the-banks-of-the-lethe-t271.htm
CAPTURAS:
http://www.andromeda-web.com/caps/108/index.php?page=1
Episode Synopsis
Synopsis from AndromedaTV
http://www.andromeda-web.com/episodes/108/synopsis/
Última edição por mara em Sab Jan 21, 2012 2:14 pm, editado 1 vez(es)

_________________
No one should never give up, ever! Do what makes you happy, what you are passionate about!



Número de Mensagens

: 19302


Location

: São Paulo, Brasil


Data de inscrição :

02/11/2007



I really think this episode was one of the most emotional ones in the series ...Dylan's eyes, filled with tears, made all of us cry with him.But, the life must go on ... and, for Dylan and his team, there was a whole Commonwealth to rebuild.Poor Dylan ...

However, if Sarah died in a attempt to bring her to the Future, she would not be there to find out Tarazed and start a little seed of the New Commonwealth ...

_________________
"Não é assim que as pessoas que se amam fazem ?"(Dylan Hunt)



Número de Mensagens

: 4767


Idade

: 59


Location

: Minas Gerais - Brasil


Data de inscrição :

22/11/2007




---
Permissão deste fórum:
Você
não pode
responder aos tópicos neste fórum