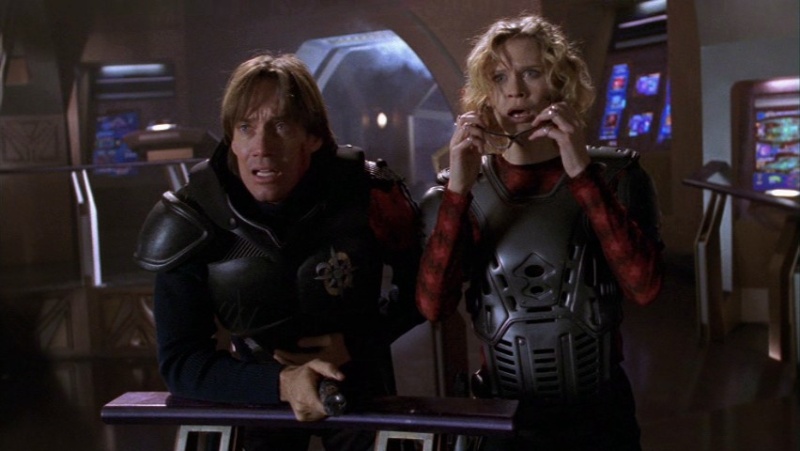 SINOPSE EM PORTUGUÊS:
https://kevinsorbo.forumeiros.com/t306-a-saga-i-22-it-s-hour-come-round-at-last#12563
CAPS/CAPTURAS:
http://www.andromeda-web.com/caps/122/index.php?page=1
Episode Synopsis
Synopsis from AndromedaTV
http://www.andromeda-web.com/episodes/122/synopsis/
Última edição por mara em Sab Jan 21, 2012 2:28 pm, editado 1 vez(es)

_________________
No one should never give up, ever! Do what makes you happy, what you are passionate about!



Número de Mensagens

: 19302


Location

: São Paulo, Brasil


Data de inscrição :

02/11/2007



Well ...
I was very impressed with this episode. A new - and awful - thread is coming to Known Worlds, and in that chaos, death would cover the ashes of a former Civilization.
The Magogs were predators and parasites ... and infested some of their victims with eggs. Dylan, Beka and the others never had seen the huge Worldship. That thing was so far bigger than the Andromeda!
I was afraid ... Everything on board was down. And the AI sending a distress call through the deep space was truely impressive.
That was Dylan's second greatest battle (the first one was in Hephaestus). He knew that enemy was so big for him and his ship, even for the powerful Andromeda. But he weren't afraid of it. He knew he must fight ... maybe until death, but we all know he would never give up!

_________________
"Não é assim que as pessoas que se amam fazem ?"(Dylan Hunt)



Número de Mensagens

: 4767


Idade

: 59


Location

: Minas Gerais - Brasil


Data de inscrição :

22/11/2007




---
Permissão deste fórum:
Você
não pode
responder aos tópicos neste fórum